Watch now: Sullivan school board approves naming West Ridge gym building for Rafalowski | Education
BLUFF CITY — Like every other section of the new West Ridge High School, Sullivan…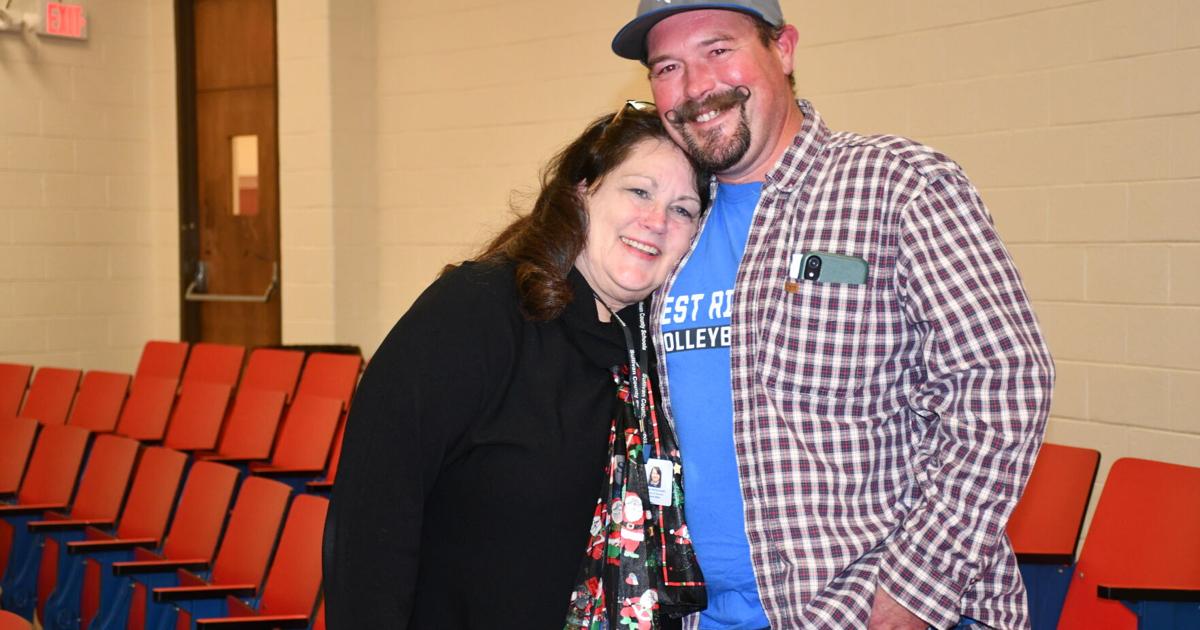 BLUFF CITY — Like every other section of the new West Ridge High School, Sullivan County Director of Schools Evelyn Rafalowski knows that Building F is the indoor athletic facility.
In other words, it is mostly the main and auxiliary gyms.
But unlike every other section of the $75 million school of about 1,900 students, Rafalowski learned Thursday night that particular building soon will bear her name.
It is to honor the work she has done to make the building a reality, the first new high school in the county since 1980, 41 years ago. She has worked for the system for a little longer than that.
West Ridge parent Jason Olinger, whose daughter is a senior at the school, came before the BOE's Thursday night meeting at Sullivan East High School to request permission for the community to name the building the Evelyn Rafalowski Athletic Complex and install a sign funded by donations.
The board approved the request 5-0 with one absent and one seat vacant.
RAFALOWSKI RESPONDS
"Every inch of the effort," a tearful Rafalowski said after regathering her composure, "was done with one purpose in mind, and that was to do the very best we could do for the students."
She was in the central office while the school was being planned, and retired in 2019 as it was under construction, although she remained as a consultant for West Ridge and the new Sullivan East Middle.
Chairman Randall Jones said in 51 years as a teacher in various systems, an administrator in Bristol, Tennessee, and a board member in Sullivan County, he's never seen anyone more dedicated to getting a job done than Rafalowski.
When the director's job became open again with the retirement of David Cox, she came back as interim director and recently signed a two-year contract as the permanent director
"Please know that lots of hands, lots of feet and lots of hearts worked on this and continue to work on it," Rafalowski said. "I will cherish this honor and treasure it forever."
JONES KEPT SECRET
Jones kept the project, including Olinger's collecting required petition signatures under board naming policy, as secret as he could from Rafalowski and even other board members.
Olinger said he collected 65 signatures at a sporting event with Rafalowski a few feet way.
"I wasn't in on the secret. That was awesome," board member Matthew Spivey said, while member Mary Rouse added, "I wasn't, either."
The plan had been to present the request for a vote at the November school board meeting, but Olinger was sick. Then, the idea was to wait until the Jan. 6 board meeting to be held at West Ridge.
However, Olinger said he wanted to go ahead with the request, although Jones said discussion about the sign details may take place at the work session and meeting following it that day.
"The only way to keep a secret was to put 'Facilities' on the list here," Jones said of a meeting agenda item near the end of the document.
Board member Mark Ireson, who was elected to the school board on a platform that included opposing the high school construction, also lauded Rafalowski.
"Once we signed the papers, I tried to do everything possible to make it the best school," Ireson said. Without Rafalowski, he said, the building wouldn't have been completed in time for its Aug. 9 opening.
IN OTHER ACTION:
• The board failed to approve a resolution opposing the recent Tennessee law change allowing partisan school board elections with Spivey, who made the proposal, and Rouse voting yes; Ireson voting no; Michael Hughes absent; Jones and Paul Robinson abstaining and one seat vacant.
Jones said he agreed partisan elections are bad but said the recommendation would send a bad message and that individual board members should directly contact legislators. The resolution called for the General Assembly to reverse course on the law, approved in the wee hours of Oct. 29 in a special session and signed by Gov. Bill Lee Nov. 12.
Four votes, a majority of seven, would have been required for approval.
• Also in a unanimous vote, the board made Ireson and Hughes members of a collaborative conferencing question committee that also will include Sullivan County Education Association President Tim Dale and Professional Educators of Sullivan County President Gloria Watson.
Collaborative conferencing failed three years ago in a vote of teachers but can be reconsidered every three years if enough teachers sign a petition. The next step is finalizing the questions for a teacher referendum of sorts on the matter.
https://www.timesnews.net/news/education/watch-now-sullivan-school-board-approves-naming-west-ridge-gym-building-for-rafalowski/article_4f51e1dc-53a0-11ec-9a22-4b5aacc15eee.html