The 30 Best Fitness Gifts 2021
Fitness junkies are often the kind to buy whatever will make their workout better, harder,…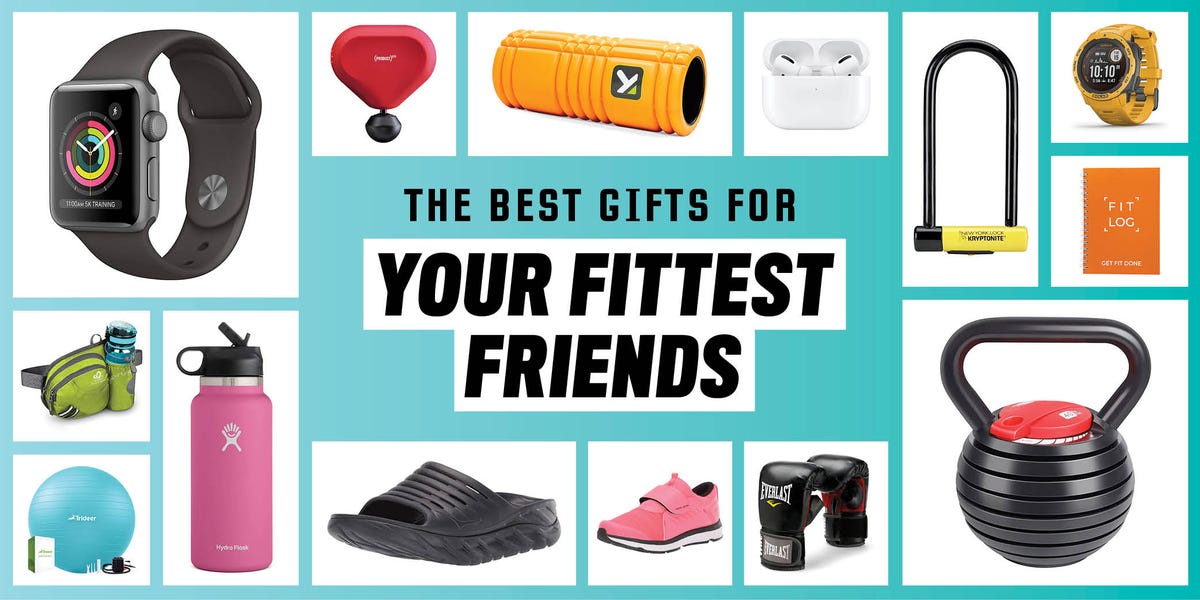 Fitness junkies are often the kind to buy whatever will make their workout better, harder, and more efficient—but that doesn't mean that there aren't still gaps in their gear collection. From recovery tools, to home gym additions, to the best fitness trackers, we have gathered up some of the best fitness products that you can add to your daily routine. From beginner to gym rat, there is something here that will help everyone along on their individual fitness journey.
Whether you are buying for an upcoming birthday, or are getting a head start on your holiday shopping, check our some of our favorite fitness gear below.
1
Theragun Mini
This mini massager is small enough to travel with, but it packs a serious punch, allowing you to get a deep-tissue massage no matter where you are.  
2
ASUTRA Organic Yoga Mat Cleaner Bundle Pack
For yogis that use their mats frequently, it is important to keep them clean. These yoga mat cleaners are gentle on the mat but hard on germs and bacteria that can get caught in the crevices. 
3
Kettlebell Weight Set
This adjustable kettlebell ranges from 10 pounds up to 40, which allows for a wide range of strengths and exercises. 
4
Apple Watch Series 3
If you don't like the look of a bulky GPS watch or don't need in-depth activity tracking, an Apple Watch might be a good fit. It will still track the important stuff like pace, distance, calories, and heart rate, but you won't feel the need to take it off after your workout. 
5
Fitness Log Book & Workout Planner
You can always track your workouts digitally, but there is something therapeutic about taking the time to write them out after completion. This one has 140 days of tracking, and it comes in a pack of two, so you can either set someone up for a year, or keep one for yourself!
6
HOKA Ora Recovery Slide 2
The worst feeling after working out is leaving on your trainers. Treat your feet to a little cushion with the Hoka Ora Recovery slides. They feel like walking on marshmallows, and they have a supportive arch that pampers you with every step. 
7
NordicTrack Commercial S15i Studio Cycle
A great way to get in a workout indoors, the NordicTrack allows you to take classes, go on virtual rides, or just free ride. It comes in 15- and 22-inch touchscreen models, and comes with a free 30-day trial of iFit. 
8
Trideer Extra Thick Yoga Ball Exercise Ball
An exercise ball is a great addition to any home gym as it can be used to enhance body weight workouts, help with stretches, and can even function as an office chair. 
9
NutriBullet N12-1001
Whip up those morning smoothies in a personal sized cup. Plus this 1200 watt motor can handle any ice, frozen fruit, or tough veggie you throw at it. 
10
Class Pass Gift Card
Class pass is an app that allows you to book workout classes and gym passes all across the US. For someone that travels frequently, this can make or break their ability to get in their workout. 
11
Wahoo Fitness TICKR Heart Rate Monitor
12
TriggerPoint GRID Foam Roller
Trigger Point Performance
This is a great intro to foam rolling. It isn't too hard, but it's firm enough to reach your deep muscle tissue.  
13
Hydro Flask 40 oz. Water Bottle with Straw Lid
Keep yourself hydrated, and your water cool. This Hydroflask comes in 14 different colors, and is double insulated, which means it can keep your water cool all day. 
14
SANKUU Yoga Strap
Stretching alone can be difficult, but this strap allows you to get a good stretch even if you don't have someone to assist you. 
15
Kryptonite Heavy Duty Bicycle U Lock
U-locks are your best option when it comes to locking your bike up outside—and this one may be expensive, but it is resistant to hand tools and bolt cutters, which significantly decreases the chance of theft. 
16
RENPHO Foot Massager Machine
Pamper hard working feet with this heated foot massager. It has a detachable, washable foot cover, and can fit feet up to men's size 12. 
17
PEARL IZUMI Women's Vesta Studio Cycling/Spinning Shoe
Spin shoes can seriously up your game when indoor cycling. They give you more leverage and allow you to pedal faster and more smoothly. These are great for combo classes as they can be used for HIIT workouts or lifting as well. 
18
Fisher-Price Just for Kicks Gift Set
For the fitness buffs that just had a baby, get their little one started young with this adorable gym set for babies. 
19
Apple AirPods Pro
AirPod Pros are noise-cancelling and sweat-resistant, which makes them a great choice to get you in the zone during a workout. Plus they have up to 24 hours of battery life, so they'll last you at least through your weekly workouts.
20
Everlast 70-Pound MMA Heavy-Bag
Bring the boxing classes home with this  punching bag and glove set. Considered a heavy bag, it weighs in at 70 pounds, more than enough to give some resistance when you don't have a sparring partner. 
21
Dr Teal's Therapeutic Solutions Pure Epsom Salt
Help your loved ones relax their achy muscles with an epsom salt bath. It can help to relieve muscle and joint pain, and is even a holistic remedy for headaches. 
22
TRX GO Suspension Trainer System
If you don't have a lot of space for gym equipment, TRX trainers can be a great way to get in a workout without the need for heavy, clunky gym equipment. 
23
WATERFLY Hiking Waist Bag Fanny pack
Whether you like going for strolls around the neighborhood or weekly hikes, this fanny pack holds all the essentials—including water—so you can walk hands-free. 
24
HEX Performance Laundry Detergent
Workout clothes can get pretty disgusting, but oftentimes you also want to be gentle on performance fabrics to increase their wear length. This detergent is designed to get the worst stains, smells, and germs out of your activewear without wearing it down. 
25
Garmin Instinct Solar
This Garmin is designed with the outdoorsman in mind. It can charge by solar and has a ruggedized design that is dirt, drop, and waterproof. 
26
Fit Simplify Resistance Loop Exercise Bands
Possibly the most cost effective way to get in home workouts, these resistance bands can enhance your workouts and help you gain strength without having to lift heavy. They are great for all levels, but particularly useful for workout newbies. 
27
Sunny Health & Fitness Under Desk Elliptical Peddler
Desk jobs can be a real fitness killer. To help keep moving, this elliptical machine allows you to move your legs all day long. This is particularly great for those that do not have the option of a standing desk. 
28
Dr Relief Acupressure Mat
Acupressure can help to release tension, loosen tight muscles, and even help with anxiety, stress, and depression. This mat is great for beginners, and is even small enough to travel with. 
29
AQUAJOY Resistance Bands Set
For those that need a bit more resistance, these bands are able to reach up to 50 pounds of resistance on their own, and even more when combined. Since they are adjustable, this is a great way to build strength when you can't go to the gym. 
30
Boardgains. Fitness Board Game.
A little friendly competition never hurt anybody. This board game challenges you and your workout buddy while keeping it fun. All exercises are strictly bodyweight, so you can play anywhere, anytime. 
This content is created and maintained by a third party, and imported onto this page to help users provide their email addresses. You may be able to find more information about this and similar content at piano.io
https://www.runnersworld.com/gear/g37545881/best-fitness-gifts/