Jodie Comer Noble Panacea Interview
Jodie Comer is (thankfully) unlike her character, Villanelle, from the hit show Killing Eve. The…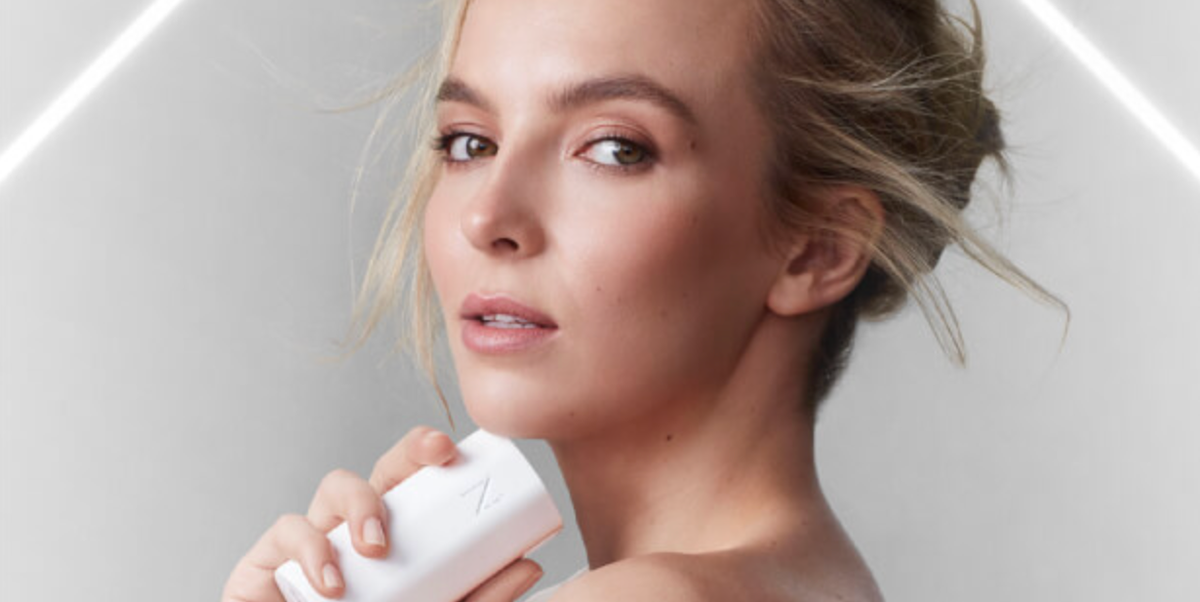 Jodie Comer is (thankfully) unlike her character, Villanelle, from the hit show Killing Eve. The only thing the cold, sarcastic psychopath, who doubles as an assassin, has in common with Comer herself is their shared love of a minimalist makeup routine. For the last three seasons, Villanelle has kept her beauty look natural, because of her busy killing schedule, Comer explains, while the actress who plays her chalks up her signature five-minute face to laziness.
The global brand ambassador for Noble Panacea, Comer always looks flawless—on and off the screen—which she attributes to her skin care routine. So, ahead of the show's final season, coming next year, we sit down with Comer to chat all things skincare, makeup, and Killing Eve.

---
What's your relationship with skin care like, and how has it developed over the years?
Throughout my teens, I took my skin and skin care for granted. I was someone who loved makeup and put all of my money towards makeup. It wasn't until I started working a little bit more and getting older that I became comfortable in my own skin. Then, I realized the importance of really taking care of myself, and as a result, my skin was so much better.
Everyone's feelings towards beauty, makeup, and skincare are so different. We're force-fed so much information of what's the next thing and what you need to buy. But I know for me, I would rather give to my body in a good way through, like, nutrition, like, drinking lots of water or spending money on products that are backed by science and can actually give my skin the nutrients it needs.
I was really overwhelmed when Noble Panacea reached out to my agent and asked if I would be interested in partnering with them. The thought just never ever crossed my mind that this would be an opportunity. But for me, I have to really believe in something to want to be a part of it. When the brand kindly sent me some products to try out, I was just in heaven. Noble Panacea is such a huge part of my daily routine. I feel incredibly lucky to work with them.
You mention products that are backed by science and feeding your body with nutrients, like water. Do you have any rules you live by for skincare or well-being holistically?
I do think water is a major component to good skin. I drink a lot of water. Also, using products from brands like Noble Panacea, who uses natural and sustainable ingredients, makes me feel confident, because I know what's actually going on my skin. I think we forget that what we put on top of our skin is soaked through and affects our entire body. That's a big thing for me.
Also, the sustainability factor. We are all such huge consumers, and I think now more than ever, we have to be really aware of what it is that we're buying and how these brands are giving back to the world. I was so inspired by Noble Panacea and the ingredients they use, but also the packaging. It's eco-friendly and recyclable. Now, I'm definitely more conscious of things like sustainable ingredients and packaging. Sixteen-year-old Jodie wouldn't have cared. She had a cabinet full of products that she didn't get to the bottom of, whereas now, I have my skin saviors and go-to products that I know I can always rely on.
This content is imported from Instagram. You may be able to find the same content in another format, or you may be able to find more information, at their web site.
Since the pandemic, do you feel like you have not only kind of pared down your routine, but really focused on certain types of products?
Yes, I try to use the products in concession with each other and limiting the mix of products. I know that is not the reality for a lot of people, but I would encourage people to do so if they can. I love to start the day with the Prime Radiance Serum. I also love this serum if I'm working out when I don't want much on my skin, but I don't want to feel dry. It's super concentrated, and it's full of antioxidants. It immediately gives me a brighter complexion.
The The Brilliant Radiant Resilience Moisturizer is also insane. What I love about this product is the consistency. I hate putting on a product, and then it immediately disappears. I have combination-to-oily skin, so my skin can get clogged quite easily and start to misbehave. So the Brilliant Radiant Resilience Moisturizer, and the Overnight Recharge Cream have a good consistency for my skin. It lasts for a lengthy amount of time, but doesn't make me feel greasy or leave any sort of residue, which I really appreciate.
I often wear makeup throughout the day, and my prep is really in my moisturizer. It's a huge part of how my makeup sets and stays throughout the day. All of my skincare and makeup kind of works with together.
Your character, Villanelle, typically wears a natural face of makeup. Do you feel like you have a similar beauty style to her, or do you prefer a bolder look?
I do love a bold lip. I mean, I am very similar to Villanelle. I think for Villanelle, her makeup style was much more about her being a busy woman who doesn't have time to faff around, whereas I'm just lazy. So we're similar but different. My brows are the most important thing for me. I like a full brow and eyebrow gel. Then, some sort of cream blush that could also go on your lip, which is my staple. I feel so lucky that I get to work with some incredible makeup artists who are such visionaries. I get to experiment with them and see what I like and don't like. That's definitely a fun part of what I do.
This content is imported from Instagram. You may be able to find the same content in another format, or you may be able to find more information, at their web site.
I can only imagine that you have learned some cool makeup tricks while being in the chair.
Yes, for sure. I work a lot with makeup artist Hung Vanngo, who is in his own league. I know for him, prep is so important. Whenever you sit down in his chair, he's always very hands-on to start. He will cleanse, moisturize, and tone your face for a solid 15 minutes before he puts on any makeup. That also reinstated for me, in regards to Noble Panacea and using the Overnight Recharge Cream as a base to makeup. It's the perfect way to get your day, and face, started on a good foot.
I also work with Alex Babsky, who has taught me a lot. I love a cat-eye liner look, but always went overboard and ended up with an Amy Winehouse kind of flick, which, of course, looked incredible on Amy Winehouse, but on me, it didn't look so great. I always end up trying to do it, and then have to wash it off my face, and then am running late. It's caused a lot of controversy in my life. So when I met Alex, I asked him how to do a feline cat-eye without going crazy. He taught me that the trick is to always start from the outside of your eye and move towards the center of your face. I always started in the middle of my eyelid and drew it out. I find that has helped a ton in regard to getting a cat-eye that truly looks good.
Do you have a favorite beauty look from the show's four seasons?
Oh, gosh. I mean, her makeup is always so bare. One of my most iconic looks as a whole in regards to costume, hair, and makeup was all the way back in Season 1. It was the Berlin look when she killed Bill and had these two braids, which were kind of tucked in at the nape of her neck. And she had this kind of printed suit on and a pair of Doc Martens. I thought it was so cool how each department took their own influences from Berlin and explored the city in their own way. It all came together so beautifully, and it was such an iconic kill itself, which I think was part of that.
This content is imported from Instagram. You may be able to find the same content in another format, or you may be able to find more information, at their web site.
You have a ton of projects going on right now. How do you keep your skin in check when you're shooting and traveling?
Well, it's almost like last year, when we all had to stop for a little bit, my skin care became more important to me. It became the simple thing of getting back into a routine, waking up in the morning and shifting myself in gear. A big thing is if I'm filming long hours or night shoots, I always make sure I cleanse my skin before I go to sleep. It's such a boring motto to live by and what your mum has told you since you could walk. But I think that's a big part of keeping my skin in check. I also love getting in a hot shower and cleansing off the day.
I think the key is to try and stick to your routine, one, because it works, but also because, for me, it's quite meditative. It's like I'm doing something for myself, even if it's just 10 or 15 minutes at the end of the day. It's like a little ritual, which I really enjoy.
Is there a beauty trend that you're loving right now?
I'm obsessed with bleached eyebrows. I mean, I wouldn't do this myself, but when I see a girl who's done it, I'm like, "Wow, that's so cool. It's a strong look, but you are killing it." Also, this trend of drawing on your freckles. It's beautiful, but I'm also curious how these girls leave the house and it doesn't sweat off their faces immediately. I don't know how practical that is, but I admire it.
This content is imported from Instagram. You may be able to find the same content in another format, or you may be able to find more information, at their web site.
What's your earliest beauty memory?
My mom has beautiful skin, and I remember she always used the same moisturizer throughout her whole life, and her skin was so soft because of it. Again, she's kind of religious in how she takes care of herself moisturizing from head to toe immediately after getting out the shower. I'm so lazy. My poor legs are so dry. If I gave my legs the care that I gave my face, I would be golden. Also, seeing the way in which my mom kind of enjoyed taking care of her skin was probably an early memory for me.
Going into the final season of Killing Eve, how do you feel? Does it feel weird, bittersweet, or both?
Oh, my gosh, it's all of the above. Honestly, it's so surreal. We have a little way to go until the real end, but we're very much in the thick of the season. I can't let myself think too much about the end. But when it comes, it's going to be weird. This has been such a huge part of all our lives. Even the crew behind camera have been here many years in a row. There is a tight-knitted family feel to the team, so to think that next year we're not going to have that luxury of all spending time with each other is really sad. But I also believe that we can hopefully give these characters the end that they deserve, and we are all satisfied with it. There's always a danger of going on too long with a show. I'm sure I'll be able to make peace with it. But it's all of the emotions.
Are there any looks that you would love to see Villanelle try before the show is over?
Oh, I mean, we've never seen her in like a full smoky eye. So maybe a full-blown eye look. Maybe I'll ask Hung to come in for an episode to give me a full-glam look. Or even the bleached eyebrow. We'll go out with the bang on the bleach eyebrow.
This content is created and maintained by a third party, and imported onto this page to help users provide their email addresses. You may be able to find more information about this and similar content at piano.io
https://www.harpersbazaar.com/beauty/a37885386/jodie-comer-skincare-interview/