IF Fitness, Eklund Training share space to provide unique exercise experience | Gaz
If you have been wanting to get in shape but may not be interested in…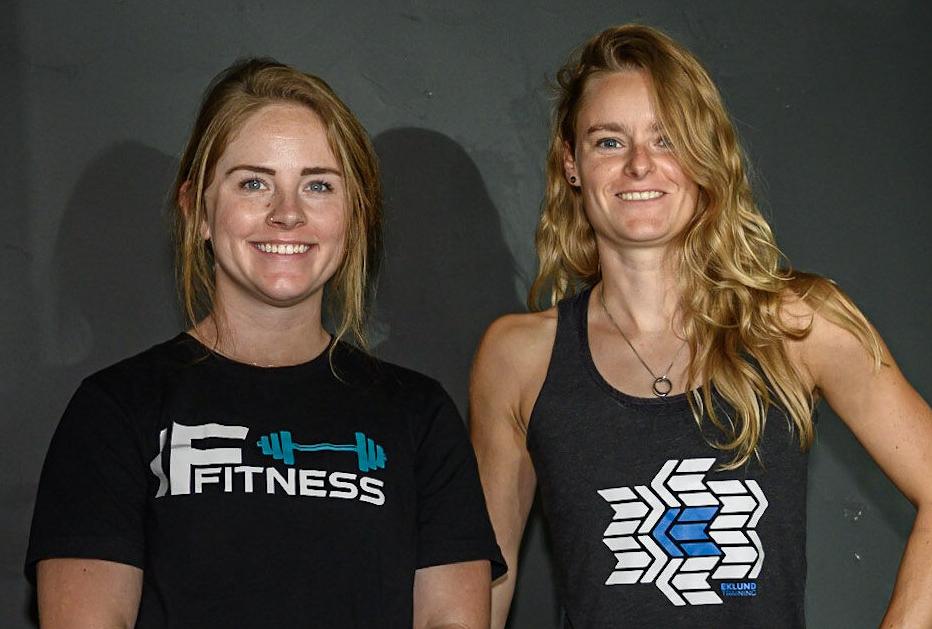 If you have been wanting to get in shape but may not be interested in the traditional gym experience, Emporia has a new option to consider.
Iva Shepherd and Kaylee Eklund are personal trainers who recently opened a private training studio in west Emporia. While they each own their own business, they have come together under one roof to help people in the Emporia area identify and meet their fitness objectives in the privacy of a small gym facility.
Located at 2918 U.S. 50 Suite C, their unique facility houses both IF Fitness (owned by Shepherd) and Eklund Training (owned by Eklund), where they share the space, split the rent and each work with their separate clients.
Both trainers are former NCAA pole vaulters with experience managing and training for commercial gyms. They met through a mutual friend about a year ago and found they had similar aims as personal trainers. Things moved very quickly from there, much faster than they had anticipated.
"It was like we had an idea and then all of a sudden we had a building," Shepherd said.
Originally, they'd hoped to find a location downtown, but one day Eklund drove by The Midas Touch Golden Tans and noticed that a suite around the side of the building appeared empty.
"I peaked in this window, messaged the owner of Midas, messaged Lea and was like, 'Hey, who owns your building?'" Eklund said. "She gave me the contact info and then we were just in."
That was in March. After doing some remodeling, they started holding their first training sessions in April. Ever since then, they have been serving a steady stream of clients and, in turn, receiving a steady stream of referrals.
"Referrals are just huge," Eklund said. "That's where almost everything comes from."
That clients consistently refer new clients is an indication of the quality of service that Shepherd and Eklund provide. Their goal is to make physical fitness accessible to everyone and to use their expertise to guide people to the most efficient use of their time and energy.
"Most people just do not know what is best for them, so that's our job," Eklund said. "I can look at you and be like, 'All right, that's probably not a good move for you yet.' That's where we come in. You can improve a lot faster with a trainer."
"There's a lot of myths in the fitness world, as with anything," Shepherd added. "People like to start rumors about stuff so just knowing exactly what's right, what's not right to do in the gym [is the benefit of working with a personal trainer]."
They strive to make their clients feel comfortable as they work on their goals. The facility itself offers privacy that commercial gyms don't and the "good vibe" that Shepherd and Eklund create limits the intimidation some clients might otherwise feel.
"We try really hard to be positive, for the most part, like body positive, food positive, exercise positive, all of that, because there's so many mixed messages and it's hard," Eklund said. "I think a lot of people, when they first start training, are like, 'Oh, you're not like a drill sergeant.'"
Every client they work with receives an individualized fitness plan drafted according to the client's strengths, needs, health status, injury history and goals.
Additionally, Eklund and Shepherd provide a variety of means for working with their clients. The most common way is regular 45-minute to one-hour in-person one-on-one sessions. They also provide classes on Monday and Thursday evenings and Tuesday mornings so that multiple clients can work out together.
For those who are more independent and comfortable with going to their local commercial gym, Shepherd and Eklund also provide online training. This entails meeting with the client to outline a fitness plan and then checking in regularly via text or FaceTime.
"They just need help knowing what exercises to put together or having a solid plan to where they're actually going to see results as opposed to just hopping on Instagram and following something random," Shepherd said.
Eklund and Shepherd hope to add more classes and more trainers at some point, although they're certainly not rushing any of that.
"That stuff might be a little bit in the future because there seems to be a good vibe if there's two here," Eklund said.
Eklund — who is also the jumps coach for the Emporia State University track and field team — primarily works with athletes or people going through physical rehabilitation, but can train a client at any fitness level. She can be reached at eklundtraining.com.
Shepherd — a gymnastics coach — also provides physical training for clients at any fitness level. She can be reached at facebook.com/IFFitness13.

http://www.emporiagazette.com/gaz/article_d83b8fda-1b0f-11ec-aa55-5f9eee9aa2f5.html