Eat This, Not That! Food Awards
This story is part of our 2022 Eat This, Not That! Food Awards. Our editors…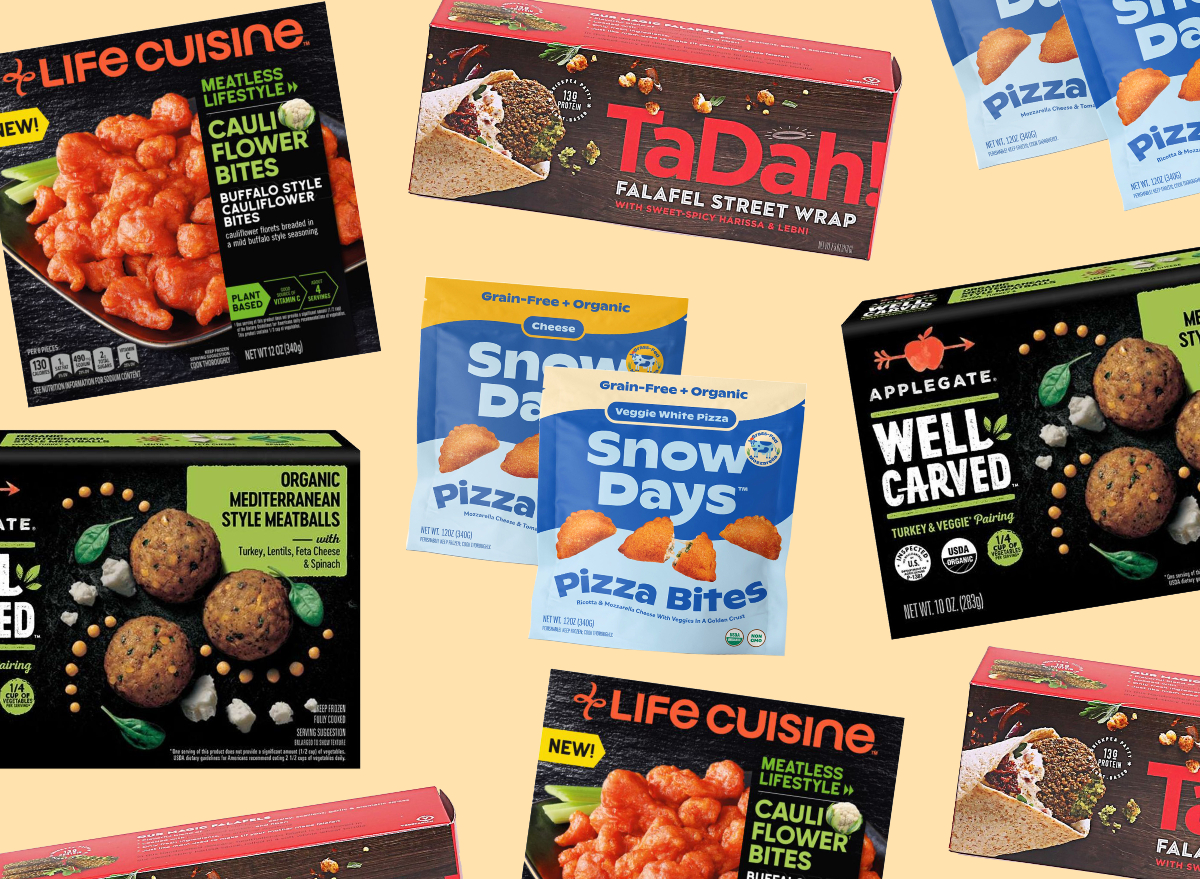 This story is part of our 2022 Eat This, Not That! Food Awards. Our editors worked with registered dietitians from our Medical Expert Board to put hundreds of the newest grocery items to the test, crowning 79 products as the healthiest (and tastiest!) winners. Read more about our judging process and check out the winners in 7 other exciting categories here! If you buy any of the winning products through the links below, know that we may earn a commission.
The best thing about frozen foods is that they can be cooked and ready to eat with absolutely zero effort on your part. You simply pop 'em in the oven or microwave and you're on your way to a filling and nutritious meal… that is, if you made the right choice in the freezer aisle.
Out of all the new frozen foods that launched nationwide between January 1, 2020 and June 30, 2021, 9 products stood out from the rest with their impressive nutrition and great taste. Eat This, Not That! Medical Expert Board member and registered dietitian, Amy Shapiro, MS, RD, CDN, helped rate the products and choose the winners, then we prepared and taste-tested each one. Read on for our honest reviews—and to see where you can buy the winners!
The Best Healthy Frozen Foods in 2022:
Best healthy frozen appetizer: Snow Days Grain-Free Pizza Bites, Veggie White
Best healthy frozen beverage: Daily Harvest Almond Mylk
Best healthy frozen breakfast: Evergreen Frozen Waffles, Mixed Berry & Almond
Best healthy frozen meal: Daily Harvest Forager Bowl, Cremini + Miso Oat
Best healthy frozen meat: Applegate Well Carved Meatballs, Organic Mediterranean Style Turkey Meatball
Best healthy frozen pasta: Cappello's Almond Flour Pasta Ravioli, Spinach & Cheese
Best healthy frozen pizza: Daily Harvest Flatbread, Portobello + Pesto With Broccoli Crust
Best healthy frozen plant-based item: Life Cuisine Buffalo Style Cauliflower Bites
Best healthy frozen wrap: TaDah! Falafel Street Wrap, Sweet-Spicy Harissa & Lebni
How They Ranked By Taste:
Watch our taste test video and check out how they ranked below..
1 flatbread: 380 calories, 20 g fat (2.5 g saturated fat), 620 mg sodium, 47 g carbs (7 g fiber, 6 g sugar), 8 g protein
The expert's take: "I love that this is simply made from all whole food ingredients, plant-based, rich in fiber and protein. No gums, no industrial oils, no hidden ingredients—only things you can pronounce. If you want more, you can 'hack' it yourself and put on the quality of toppings you desire! I love well thought out and executed products that are truly good for your health!" says Shapiro.
Our tasting notes: "While this product got a rave review from Shapiro in the health department, I was less than thrilled with the taste. While the crust was crunchy, the toppings sort of merged into each other in one muddy flavor, and it didn't look very appealing," says Senior Editor, Meaghan Cameron.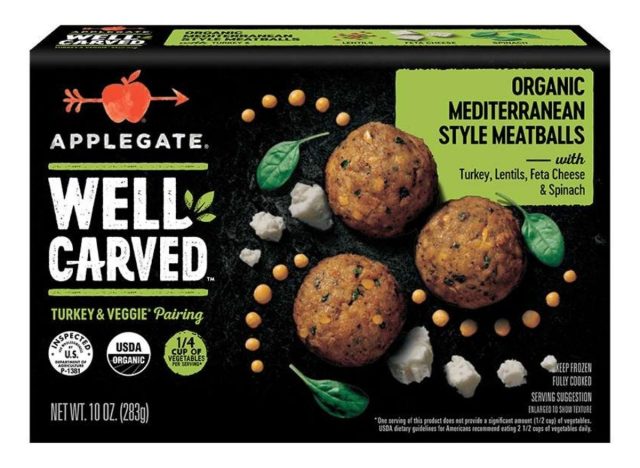 3 meatballs: 140 calories, 7 g fat (1.5 g saturated fat), 480 mg sodium, 8 g carbs (2 g fiber, 1 g sugar), 13 g protein
These organic blended meatballs were designed to satisfy shoppers who are mindful of their meat intake and its nutritional, ethical, and environmental impact. The new, chef-crafted Well Carved™ product line combines meat with whole vegetables, legumes, and grains.
The expert's take: "I love that this product is easy to make, tastes great, is organic, and seamlessly includes plants into their meatballs. It has all the flavor and texture of a regular meatball but with more nutrition. Additionally, the sodium is low, the protein is high, and the sugar is almost zero!" says Shapiro.
Our tasting notes: "The meatballs maintained moisture very well and tasted great. A quick bath in marinara would make these indistinguishable from traditional meatballs at a fraction of the fat and calories," says Cameron.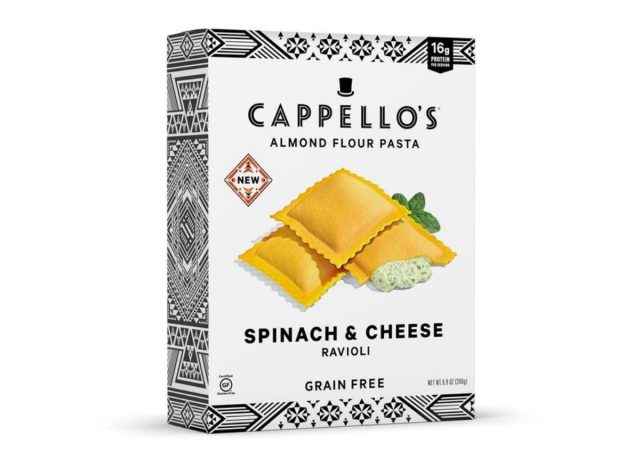 4 ravioli: 390 calories, 23 g fat (8 g saturated fat), 730 mg sodium, 31 g carbs (3 g fiber, 2 g sugar), 16 g protein
These tasty gluten-free ravioli feature spinach paired with creamy ricotta cheese. Each ravioli is made using Cappello's signature almond flour pasta. The ravioli is made with cage-free eggs and almond flour, and each serving is packed with 16-17 grams of protein per serving and healthy fats, making them as functional as they are flavorful.
The expert's take: "Gluten-free pasta that tastes great and has good texture is hard to find. Cappello's does a great job. The ingredients are whole, they avoid many digestive disruptions by using almond flour, and a serving will fill you up, provide you with energy, and avoid any blood sugar crashes normally associated with pasta," says Shapiro.
Our tasting notes: "These large ravioli were absolutely delicious. The filling was flavorful and creamy, and the pasta toward the center of the ravioli was the perfect thickness—but the edges did hold on to a bit of chew. That was the only drawback to this otherwise delicious stuffed pasta—it did not taste gluten-free," says Cameron.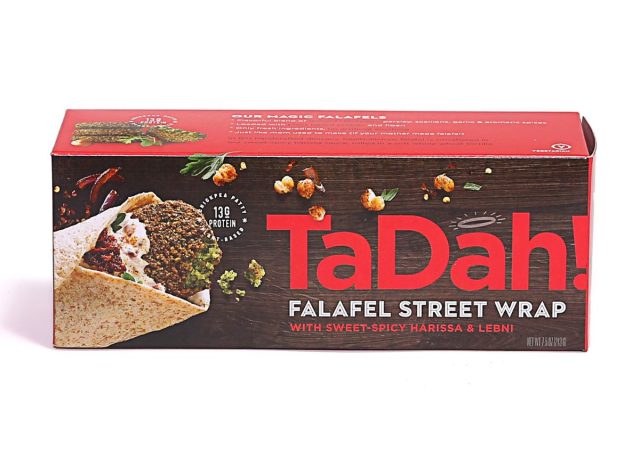 1 wrap: 410 calories, 17 g fat (6 g saturated fat), 810 mg sodium, 54 g carbs (9 g fiber, 7 g sugar), 13 g protein
These TaDah falafel wraps feature chickpeas, fresh herbs, and aromatic spices topped with a generous spread of house-made hummus. There's also a Sweet-Spicy Harissa sauce balanced by creamy lebni.
The expert's take: "This product is rich in fiber and fully plant-based, while being made from whole food ingredients. Rich in fiber, protein, and healthy fat, it will keep you satisfied as a meal and give you all the decadent flavors you crave when dining out!" says Shapiro.
Our tasting notes: "These wraps are filling! They came out surprisingly tasty, straight from the microwave. While the overall texture was a bit mushy, the overwhelming variety of flavors made these a worthy, quick lunch on the go. The heat from the ghost peppers paired perfectly with the creamy lebni, and the sweetness from the caramelized onions rounded everything out," says Cameron.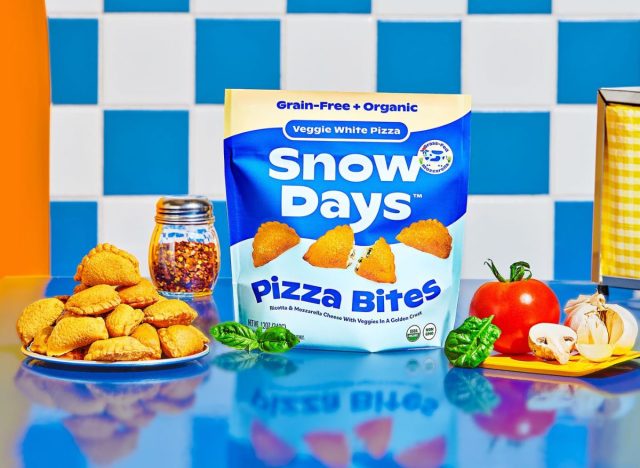 Per 1 serving (5 bites): 10 g fat, 5 g saturated, 460 mg sodium, 27 g carb, 4 g fiber, 4 g sugar, 7 g protein
The expert's take: "I like them because they feed your childhood cravings in a healthier and cleaner way! Especially if my kids don't notice. I love that they use olive oil instead of industrial oils to keep inflammation at bay!" says Shapiro.
Our tasting notes: "First of all, these little bites are adorable—and they look just like little mini calzones! Second, they're sure to be a crowd-pleaser. After all, who doesn't love pizza bites? I served these with a warm marinara sauce on the side, and they were quickly snapped up by other household members. Even my 3-year-old pronounced them 'good,' with an enthusiastic thumbs up," says Cameron.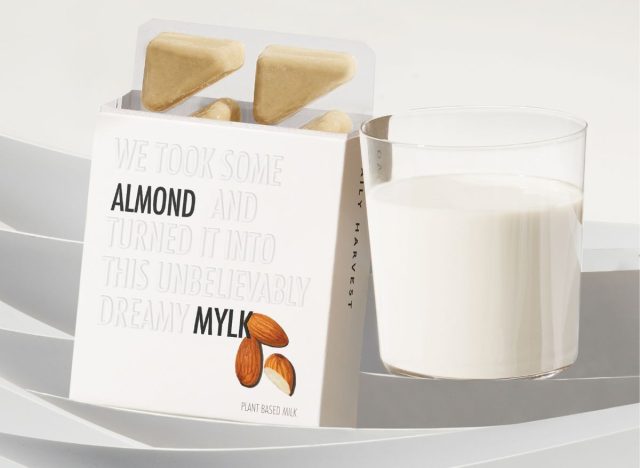 2 wedges: 90 calories, 8 g fat (0.5 g saturated fat), 40 mg sodium, 2 g carbs (1 g fiber, 1 g sugar), 4 g protein
The expert's take: "These days, nut milks are abundant but also full of so many ingredients. The beauty of drinking dairy-free milk is that you can get the health benefits but without added ingredients that cause inflammation! This product only contains three whole food ingredients, it is easy to use, and won't go bad if you don't use it, so it saves money and tastes great!" says Shapiro.
Our tasting notes: "Everyone who is a fan of almond milk should have these in their freezer. They quickly whipped up into delicious, cold, drinkable almond milk with a bit of water in the blender. The product was super creamy and filled with the flavor of real almonds," says Cameron.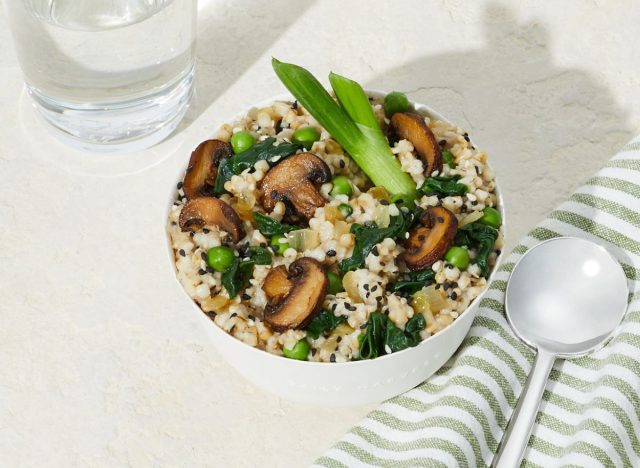 1 container: 160 calories, 3 g fat (0.5 g saturated fat), 390 mg sodium, 26 g carbs (5 g fiber, 6 g sugar), 7 g protein
The expert's take: "Savory, warming, and rich in nutrients—including functional ingredients to boost your overall health. Fully plant-based with no hidden fillers, thickeners, emulsifiers, it will fill you up the right way. If you crave more protein, you can simply add chicken, eggs, or tofu on top, and the sodium is low, unlike many other frozen food items. An easy way to sneak in plants that taste great without you having to do any work!" says Shapiro.
Our tasting notes: "This meal is a top pick for flavor and nutrition. The big pieces of mushroom and the hearty spinach leaves swirl perfectly with the subtly miso-flavored oats. The oats lent a creamy texture that was reminiscent of a long-simmered risotto, without the time on the stove. This could be the best thing I tasted of the frozen food nominees, followed closely by the Evergreen waffles and the Life Cuisine Buffalo Style Cauliflower Bites," says Cameron.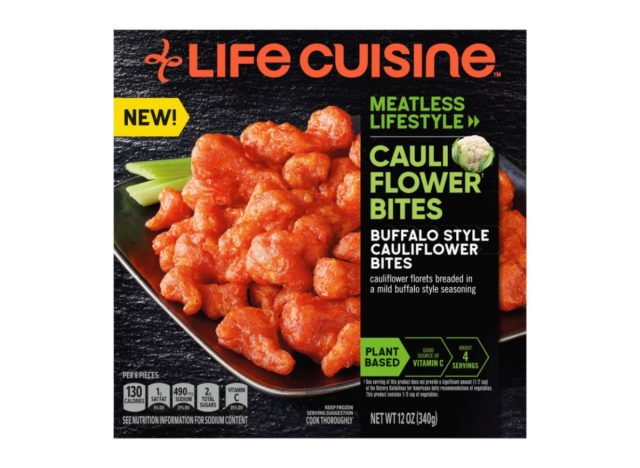 Per 1 serving: 130 calories, 7 g fat, 1 g saturated fat, 490 mg sodium, 15 g carb, 2 g fiber, 2 g sugar, 2 g protein
These Buffalo-style bites are ready in minutes and can be cooked in your oven, microwave, or air fryer.
The expert's take: "Anything that makes cauliflower attractive to more people is a thumbs up in my book. With mostly clean ingredients, this is low in saturated fat and sugar. Delicious in the air fryer, put these out with carrots, celery, and some organic ranch dressing—and you might not miss the wings!" says Shapiro.
Our tasting notes: "I'm a huge fan of anything Buffalo-style, so I was excited to try these bites. They crisped up perfectly in the oven, which is something I was admittedly worried about. While the instructions did say to flip halfway through the cooking time, I found this impossible because they were stuck to the pan. This worried me, but the final product was perfect. After the full cooking and cooling time, the shocking red-orange bites released easily from the pan. While these needed a quick bath in Frank's Red Hot to bring them up to Buffalo-quality, after that they were delicious. Shapiro recommends serving these bites with carrots, celery, and some organic ranch dressing. I, myself, would opt for a homemade blue cheese dressing," says Cameron.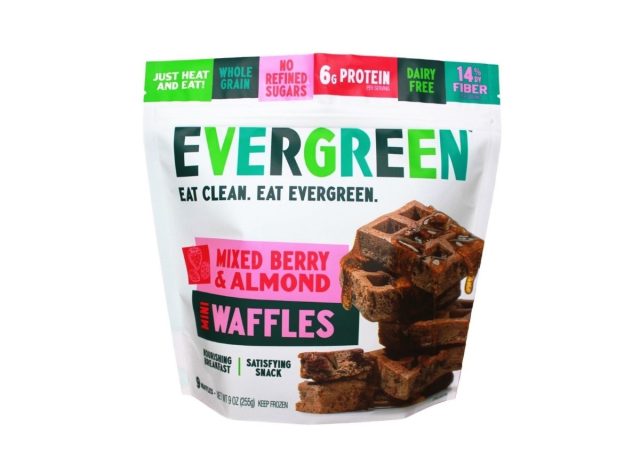 3 waffles: 190 calories, 7 g fat (1 g saturated fat), 340 mg sodium, 29 g carbs (4 g fiber, 11 g sugar), 6 g protein
The founder, Emily Groden, is a former college athlete turned Harvard lawyer who wanted to create a better-for-you waffle to feed her daughter. Evergreen Waffles are made with 100% whole wheat and flavored only with real fruits, vegetables, nuts, and spices–without refined sugar, dairy, or preservatives. Each Evergreen variety contains 12 ingredients or less. The only preservative Evergreen uses is the freezer.
What the experts have to say: "This pick is rich in plants and 'real' food—not just powders and colors. This waffle includes antioxidants, protein, fiber, and limited added sugar but from ingredients you can rely on. I also appreciate the use of avocado oil instead of canola oil. So much better for our bodies!" says Shapiro.

Our tasting notes: "If there's a negative to these waffles, it's that they're small—probably because the owner of Evergreen originally made them with her daughter in mind. Bigger would be better because they're absolutely delicious. These adorable waffles are Belgian-style and thick and hearty with visible berries. They taste nutty and sweet, and they're amazing with a drizzle of syrup and some whipped cream. Ice cream wouldn't be a bad idea either, for a relatively healthy dessert," says Cameron.
For more, sign up for the Eat This, Not That! newsletter to get the latest grocery news delivered straight to your inbox!
https://www.eatthis.com/news-best-healthy-frozen-foods-2022-food-awards/