Could Anthony Joshua share a gym with Canelo Alvarez? A look at the trainers where Joshua might move
Ronnie Shields  Perhaps most famously known for his one fight stint as Mike Tyson's trainer,…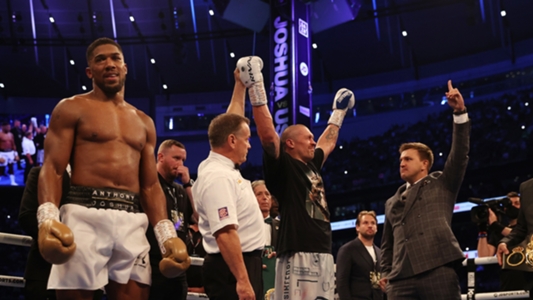 Ronnie Shields 
Perhaps most famously known for his one fight stint as Mike Tyson's trainer, Ronnie Shields was cornerman for one of the biggest fights of all time as the volatile New Yorker was beaten down by Lennox Lewis in 2002. Despite that being a low moment for the Texan trainer that year, he did enjoy some memorable highs as he masterminded Vernon Forrest's double success over Shane Mosley. 
An ex-fighter, Shields would bring top level experience to the team of Anthony Joshua and he also holds some notable experience in the heavyweight division thanks to previous work with Evander Holyfield and Tyson. Currently guiding the career of middleweight star, Jermall Charlo, Shields is still operating at the very top of the sport and would relish the chance to repair Joshua's current standing at heavyweight. 
Chances of improving Joshua to defeat the leading names at heavyweight 3/5 
Eddy Reynoso 
Eddy Reynoso's gym is congested with incredible talent and if Anthony Joshua wants to surround himself with high profile winners then Reynoso's base is the place to go. The man who drove Canelo Alvarez to superstardom also has Oscar Valdez, Ryan Garcia, and Joshua conqueror, Andy Ruiz on his books. His time is often booked up but surely there's space for a fighter as big as Joshua. 
In regards to improving fighters, something Joshua drastically needs heading into a rematch with Oleksandr Usyk, Reynoso's record is impressive. Garcia and Valdez have made huge progress under Reynoso's tutelage and Canelo's performance in his return with Gennadiy Golovkin proved that he could adapt. One obstacle in this potential partnership could be the language barrier with Reynoso's broken English perhaps not getting through to Joshua at vital times. 
Chances of improving Joshua to defeat the leading names at heavyweight 4/5 
Robert Garcia 
Robert Garcia had to endure defeat recently as younger brother, Mikey, was widely outscored by Sandor Martin in the biggest boxing upset of 2021. Despite that personal setback, the result won't take any shine off Garcia's record as a trainer that has saw him win multiple awards after making the successful conversion from fighter to trainer. 
Nonito Donaire, Kelly Pavlik, and Marcos Maidana are just three of Garcia's former students and his California gym is used by fighters starting their careers and those in need of a quick fix ahead of a big fight. Garcia's record as a coach is filled with superb achievements but levelling the series between Joshua and Usyk would serve as one of his finest feats. 
Chances of improving Joshua to defeat the leading names at heavyweight 4/5 
Virgil Hunter 
Now training a Joshua managed fighter in Joshua Buatsi, Virgil Hunter has likely been in contact with the former heavyweight champion on multiple occasions already regarding the progress of Buatsi. A defensive coach who took Andre Ward from child protégé to the top of the mythical P4P rankings, Hunter's reputation grew massively with Ward. He's yet to train a fighter since Ward's retirement who has got anywhere near the level of the Oakland great. 
Amir Khan and Andre Berto aimed to breathe new life into their careers by joining up with Hunter but the results were mixed. Buatsi and Tony Yoka are two of Hunter's current projects and he's made improvement in both judging by their recent results. If he's to the same with Joshua then the veteran cornerman will likely require more time as his patient approach has been well documented with other fighters. 
Chances of improving Joshua to defeat the leading names at heavyweight 2/5  
https://www.dazn.com/en-GB/news/boxing/could-anthony-joshua-share-a-gym-with-canelo-alvarez-a-look-at-the-trainers-where-joshua-might-move/5t9lmw5ciagp1h4zom2i42r3l