After years of issues, Champaign Central's Combes Gym gets a new court | Education
CHAMPAIGN — LeConte Nix tried to peek his head into Combes Gym a few times…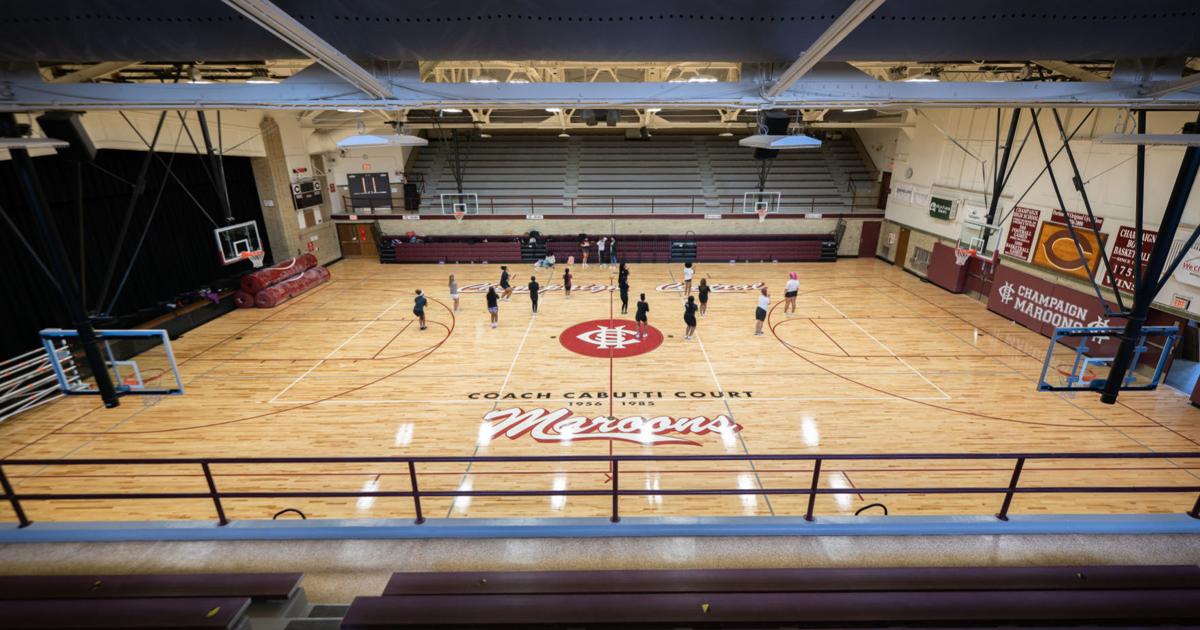 CHAMPAIGN — LeConte Nix tried to peek his head into Combes Gym a few times as the floor was torn apart and excavated all the way down to the concrete slab beneath.
Most of the time, that area of Champaign Central High School was off-limits, but when he did catch a glimpse of the floor he coached on for 17 years as an assistant coach, his memory raced through the special moments he experienced on its sidelines.
"You think about all the games that happened before they dug it up," said Nix, who will take to the sidelines as the boys' basketball team's head coach this year. "It took me back. I reminisced a little bit, and now it's onto better, new things now."
The last two decades had not been kind to Cabutti Court, which was completely dug up and replaced two decades ago. That time, the job was botched. The concrete never set, and moisture constantly seeped through the floor, causing large water stains.
When they reached the concrete, the team working on the latest renovation found a wet mess.
"The old slab had basically just chowdered underneath," said Sandra Roesler, the Champaign school district's capital-projects manager.
On the last renovation, the floor wound up 2 inches lower than it was before, meaning the rims had to be lowered as well. This time, the floor was raised back up a few inches, so the baskets were raised again.
While the gym has a similar feel, fans will notice differences. In previous stages of the project, the lighting was replaced. The old court had yellowed over time significantly, so the new floor is a far more neutral color.
The large bear logo at mid-court was also replaced with a "CHS" logo inside a maroon circle.
"It's a little lighter, but that's good," Nix said. "It brightens up the gym a little bit."
While the permanent seats remain, the wooden removable bleachers near the court were replaced with maroon ones. Nix joked that he hopes the seats aren't too cushy.
"The new bleachers are nice," Nix said. "It may be a bit more comfortable, so we'll see. It's nice getting up (on your feet) when you have a little splinter in your butt."
Of course, one defining feature of the old court that dates back to the mid-20th century no longer exists. Previously, the floor had dead spots where the ball didn't quite bounce as much as it normally would, and the Maroons made sure to take advantage.
The new job, though, was done properly, so the ball bounces equally all over the court. For Nix, it's a small price to pay.
"There are not as many dead spots as I like," he said. "But no, it's beautiful. The gym is great. Our kids stepped on it and loved it. They want to get back in and play."

https://www.news-gazette.com/news/local/education/after-years-of-issues-champaign-centrals-combes-gym-gets-a-new-court/article_4fbafd8f-8c4b-5146-ada2-26bf7d70ab7e.html