A new worker-owned food co-op in south St. Louis aims to make fresh, healthy food more accessible to all | St. Louis
A new grocery store recently opened its doors in south St. Louis, and it's unlike…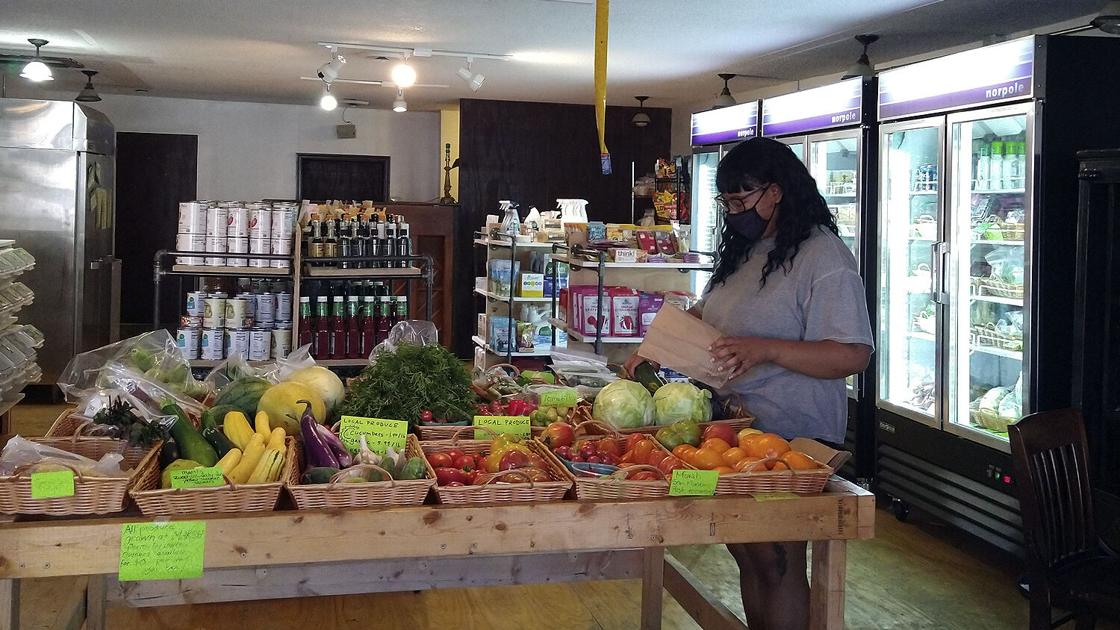 A new grocery store recently opened its doors in south St. Louis, and it's unlike anything else in the area.
MARSH (Materializing and Activating Radical Social Habitus) has opened its Grocery Cooperative at 6911 S. Broadway in the Carondelet neighborhood with a goal of making healthy, nutrient-dense and organic foods more accessible to all. As co-founder Beth Neff explains, MARSH is an organization with a lot of moving pieces, and its newest endeavor builds on its overall mission of social justice.
"MARSH is, in essence, a social and ecological justice laboratory," Neff says. "We are engaged in experimental practices that seek to make the connections between justice frameworks – climate, labor, economics, social systems. The ambition is to build a model for nurturing, generative and sustainable grassroots systems to replace existing exploitive and extractive paradigms. Since food is essential and universal, it seemed like a great place to start!"
Thanks to a successful grant from the USDA's Healthy Food Funding Initiative, MARSH's grocery store is an extension of an online catalog that the organization launched during the pandemic. Over a year and a half, starting in spring 2020 as the first COVID-related shutdowns were occurring in St. Louis, MARSH built a membership of about 160 families and filled more than 1,200 orders.
In keeping with its mission, the grocery store is built on a co-op model, in which ownership is shared among its workers and operational decisions are made together. "In our small system, all workers – regardless of the tasks they perform or the hours they work – are paid at the same rate and have an equal voice in policy and procedure," Neff says. "Decisions are made collaboratively as much as possible and the team meets weekly to discuss any issues that anyone proposes, with facilitation rotating among worker-owners. Some worker-owned businesses are based on profit-sharing, but since we're a not-for-profit, our focus is on fair-wage labor, shared management and mutual benefit of workers, consumers and the community as a whole."
Neff adds that worker-owned cooperatives such as this are uniquely positioned to address workplace inequities and that the model allows all participants, from workers to shoppers, to work in harmony. "We had this idea for an integrated cooperative where all participants – workers, consumers, producers – establish the values and own the means of acquiring healthy food together, rather than in competition with each other," Neff says. "We [also] wanted those who are most likely to experience food insecurity to have the greatest say in addressing it."
The grocery itself is stocked with a full line of natural and organic products, including frozen and refrigerated items, dairy, personal care, bulk foods and fresh produce. The majority of the produce on offer is grown by MARSH's own worker-owner team in two lots near the grocery store. You'll also find prepared foods and baked goods that are made on-site by members of the co-op; think hummus, salsa, fresh salads, sweet and savory pies, entrées, focaccia pizza, breads and cookies. 
In keeping with its mission of making healthy, nutrient-dense and natural or organic foods more accessible to the community, the grocery store also features a sliding scale pricing model.
"Food co-ops as purveyors of these grocery categories have come to be seen as elitist and expensive," Neff says. "We were interested in making these kinds of high-quality/lower-ecological-impact products available to everyone and began testing a sliding scale model at a bi-weekly outdoor market last summer. The response was amazingly positive, with most people paying at the top of the scale and some paying nothing at all."
The grocery store operates on a modified version of that model. Every product is priced at cost, including both the purchase cost and the cost of selling, factoring in credit card and POS system fees. That comes out to about a 12 percent markup, which Neff says is "significantly lower than the markup at any conventional supermarket." At checkout, shoppers are given the option to pay above or below the total of the groceries. "We suggest a range of 10 percent above or 10 percent below, but the choice is theirs," Neff says. "Those who can pay a little more to support those who can't and everyone is still getting good food for less."
So far, Neff says the reception from the community has been gratifying in the weeks following MARSH's grand opening in mid-August.
"We're having good steady traffic, a lot of interest in the cooperative model, positive response to the product selection, a good cross-section of people from the neighborhood [and] from around the city and people paying at different levels on the sliding scale," Neff says.
MARSH Grocery Cooperative is open Tuesday through Thursday from 9am to 6pm, Friday from 4 to 8pm and Saturday from 9am to 6pm.
MARSH Grocery Cooperative, 6911 S. Broadway, Carondelet, St. Louis, Missouri, marshlife-art.org, marshcoop.org
https://www.feastmagazine.com/st-louis/article_79760b4e-0d93-11ec-8199-db5218bbfbb9.html