18 Cute Winter Workout Clothes That'll Keep You Warm and Stylish
Courtesy Winter can be a real downer sometimes. With temperatures dropping as fast as the…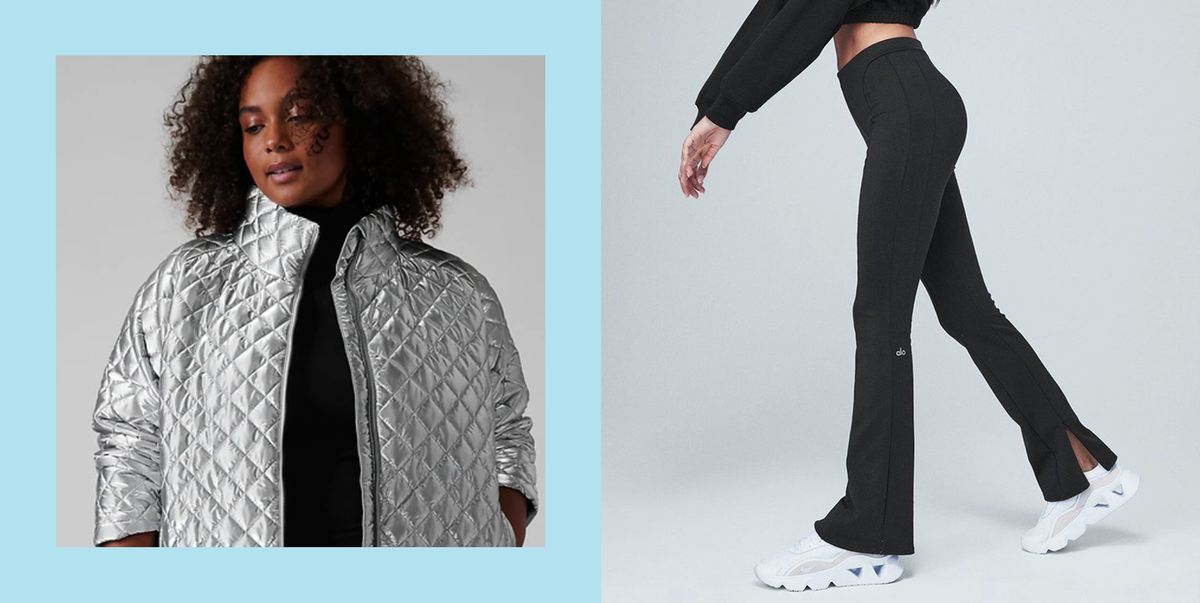 Winter can be a real downer sometimes. With temperatures dropping as fast as the sun at 4PM, it can be hard to get motivated to do anything at all. Needless to say, a little extra motivation for pretty much all tasks, like with cute work outfits, must-have winter accessories, and candles to cozy up your rooms, goes a long way.
Winter also happens to be a perfect time to strap in and get a good workout routine started (if you don't already have one). The lack of sunshine wont be tempting you to run around town quite as much, and fitness becomes the perfect excuse to get out of the house a little. But obvi, you're going to need an entire new set of workout clothes to match the temperatures outside (woohoo!). Those biker shorts, however cute and convenient, are just not going to cut it when it's below freezing. So here we are, offering you all the essential and stylish pieces you are going to want to stock up on before starting (or continuing) your winter workout routine. These are going to include more than just leggings and sports bras, so if you're in need of these specific items I recommend checking out those links!
Advertisement – Continue Reading Below
1
These Matching Sweats
STRATO THUNDER GREY CREWNECK TOP
Getting active outdoors from here on out probably requires some bundling up, and nothing does the job quite like a classic sweat set.
2
This Chic Twist Long Sleeve
Featherweight Twist Of Fate Pullover
Look cute and snug in this brown long-sleeve top that honestly works for your gym 'fit or a cute weekend brunch ensemble, if you ask me.
3
This fitted turtleneck
Alosoft Protection Turtleneck – Steel Blue
In case you didn't know, they do make long-sleeve workout clothes with turtlenecks. This one's sure to keep you feeling toasty (and also stylish) for any outdoor activity.
4
This Metallic Light Jacket
Whisper Metallic Jacket
You're obviously going to need a light jacket for your evening runs. And with the darkness falling upon us at midday already, having something bright that can reflect light will make you look chic, but also more importantly, keep you safe.
5
This Checkered Sports Bra Look
Tory Sport Women's Printed Scoop Bra, Evergreen Micro Check, XS
Tell me this checkered sports bra is not to die for?? There are thousands of monotone ones out there but this pattern is special. Even more so when paired with its matching bottoms and a cozy cardigan to throw the whole look together.
6
These Sweet Leggings
Zoom 7/8 Legging
These patterned leggings go with anything and are such a vibe. Pair them with a more neutral top for an everyday feel, or turn heads with something like this color-blocked quarter-zip. 
7
This matching purple set
Power Move Seamless Leggings Acai Purple
8
These Peachy Sweatpants
Grand Stand Track Pant in Pastel Peach
Just because it's winter doesn't mean you have to tone down your color palette. These peachy sweats (not to mention the coordinating sports bra top) are just what you need to brighten up your entire gym experience.
9
These Comfy Joggers
Women's Weekend Jogger
Joggers aren't quite sweatpants and they aren't quite leggings, but they provide warmth like the first and shape like the second. Ideal? We think yes. 
10
This sweet cropped sweatshirt
Atira Crop
Excuse me, but this entire look is a full-on mood. The cropped sweatshirt in particular is calling your name, I think, but we also can't get over the sweet ribbed detailing on both the top and the matching leggings.
11
This Insulated Jacket
Flurry Force Insulated PrimaLoft® Jacket II
This insulated jacket is a winter-workout-wear must. Head out on your morning run knowing you'll stay warm and protected from the lowering temps.
12
This Killer Catsuit
Circular Knit Catsuit
It was absolutely necessary to include this catsuit from Queen Bey's Ivy Park. I mean, not only is it definitely going to turn some heads, but it's also an ideal base for any type of skiing or snow-boarding situation.
13
This shiny vest
Stunner Puffer Vest – Black
Wear this shiny piece on top of your other winter activewear to keep your core warm and your outfit extra fly.
14
These Flared Leggings
High-Waist Zip It Flare Legging – Black
It's definitely time to get back on the flared legging kick, if you haven't already done so. This cute pair has side slits to add some extra interest. Working out or lounging, this is def your new winter mood.
15
This artsy pair of leggings
Waist Not Leggings – Brushstrokes Print
Leggings with a pattern will add lots of spice to any winter workout outfit. Whether you pair it with the matching sports bra, or with a fitted workout jacket is up to you!
16
These Cozy Joggers
lululemon lab Super High-Rise Jogger
These high rise joggers just look so comfy!! Complete your full warm-up session in this outfit before getting into the hefty parts of your routine.
17
This Long Sleeve and Leggings Combo
Malaika Ribbed Seamless Long Sleeve Crop Top
A stylish long-sleeve crop top and leggings combo is probably your go-to look when thinking of winter workout gear. So here you go! Feast your eyes on Zoe is Sport's collection. Oh, we're also obsessed with the ribbed texture—so cozy.
18
This cropped hoodie
Featherweight Don't Look Back Hoodie
If you're hitting the gym, and just need a little layering piece to get you warmed up, look no further than this cute crop top with a little tulip detail in the back.
This content is created and maintained by a third party, and imported onto this page to help users provide their email addresses. You may be able to find more information about this and similar content at piano.io
Advertisement – Continue Reading Below
https://www.cosmopolitan.com/style-beauty/fashion/g38478951/best-winter-workout-clothes/