15 Stocking Stuffers Under $35 Your Workout Buddy Will Love
Kseniya OvchinnikovaGetty Images You and your workout buddy have been through a lot together. All…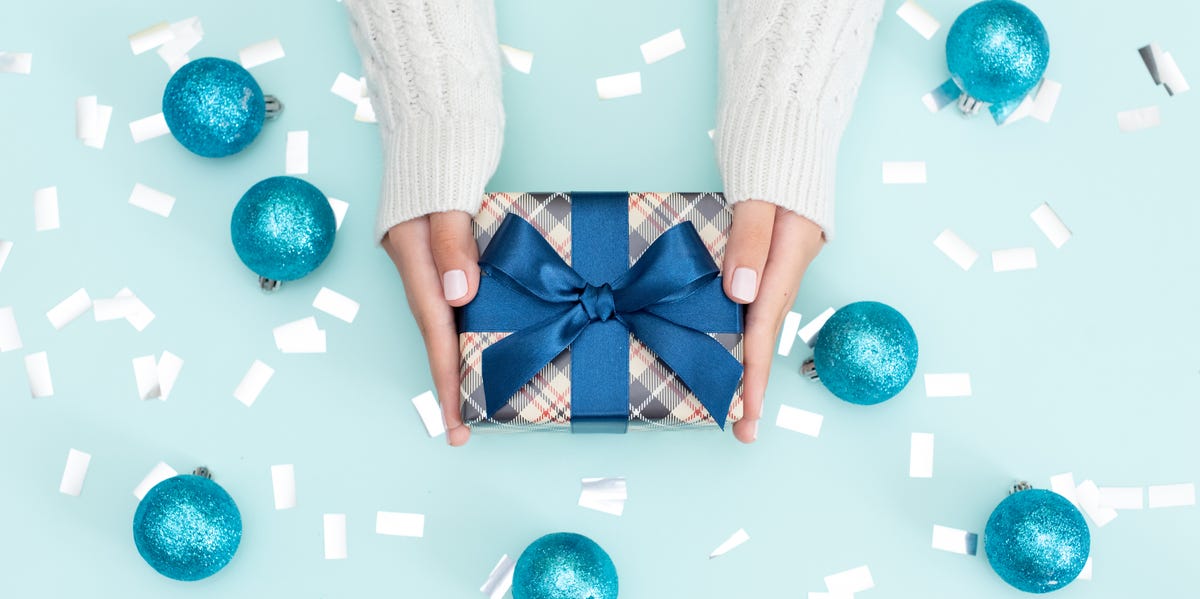 Kseniya OvchinnikovaGetty Images
You and your workout buddy have been through a lot together. All the highs, lows, and cheerleading that come with grinding it out on the reg have a funny way of bringing people closer. So you want to show them you're grateful they have your back.
You don't need to shell out for a massive gift, though—you don't want to give them pressure to reciprocate. Plus, it's the thought that counts, right? Instead, why not go with a stocking stuffer to tuck in their gym bag for future use.
Need ideas? We've got you covered with perfect picks that will help your exercise partner push their workouts to the next level and make recovery even sweeter.
1
Beloved Grapefruit & Red Ginger Shower and Bath Gel
Love, Beauty and Planet
target.com
$9.99
Let's get real: Eau de gym doesn't smell good on anyone. Help your buddy get back to feeling fresh with this deliciously scented shower gel. It features the refreshing aroma of grapefruit and red ginger to help add a little pep to their step, even after an intense round of HIIT.
2
Bluetooth Over-Ear Headphones
Pollini
amazon.com
$28.89
Turns out, you can get your bud the perfect pair of Bluetooth headphones to stash in their gym bag for less than $25. This pair has cushy earmuffs that offer a comfy fit, and it syncs easily to Siri or voice assistant-enabled devices. Amazon reviewers swear by the sound quality, noting these babies can last for up to three days on a single charge.
3
Beloved Green Clay & Eucalyptus Bath Bomb
Love, Beauty and Planet
target.com
$4.99
Consider this relaxation in a leaf-shaped package. This bath bomb is ideal for soothing sore muscles with an indulgent spa-like soak in the tub after a gym sesh. Infused with essential oils, it also features calming scents of natural green clay and eucalyptus extract that will transport your training partner to a more chill headspace during bath time.
4
Gym Towel
This Adidas towel is a total winner, whether as a go-to sweat rag or something to lay under the head during stretching sessions. It's small enough to toss in a gym bag but still big enough to take on various sweaty tasks. Also, it just looks cool.
5
16 oz. Insulated Stainless Steel Travel Mug
Hydro Flask
amazon.com
$30.09
It can be tough to chug an entire cup of coffee before those early morning workouts. And, since tossing the nectar of the gods is a total no-no, this Hydro Flask comes in handy, enabling your bud to save those leftovers until you're done at the gym. Not only that, it'll keep them piping hot. BTW, it works great for smoothies and soups, too.
6
Beloved Cherry Blossom & Tea Rose Face Mask
Love, Beauty and Planet
target.com
$3.99
A sheet mask is a total slam dunk for a stocking stuffer—everybody and their mom gets giddy over them. With refreshing essential oils and soothing scents of cherry blossom and tea rose, this mask will perk them up and hydrate their tired skin no matter what kind of workout-induced torture it went through.
7
Workout Friends Gift Mug
KalyGraphicPrintable
etsy.com
$21.95
Gifting for a workout group? Give a shout-out to your exercise crew with a round of these personalizable coffee mugs. You can choose from more than 400 hairstyles, skin tones, and outfits to get the look of your gym pack just right. You can even pick from different colors and sizes to make a mug that's perfect for your whole team.
8
Challenger Running Fanny Pack
It can be tricky to find a spot to stash your essentials during those outdoor workouts and runs. Luckily, this hip fanny pack is roomy enough to hold keys, a phone, money, and more. It's also contoured to reduce bouncing, so your pal won't even remember they're wearing it.
9
Beloved Coconut & Warm Vanilla Hand Sanitizer
Love, Beauty and Planet
target.com
$3.99
Fact: You can never have too much hand sanitizer. Your bud will enjoy the rich scents of coconut and warm vanilla and benefit from this pick's serious sanitizing power (it takes out up to 99.9 percent of many common germs and bacteria). Also, it will leave their hands feeling soft, even after crushing it on the dumbbells.
10
Flat Pouch Set
That gym bag isn't going to organize itself. This flat pouch set can hold a ton of different stuff—hair ties, keys, shower gear, and more—to help your workout bud quickly access whatever they need at any given moment. Also, there's a slew of pretty patterns, so you're sure to find something that matches their style.
11
License to Train Wrist Bands
Lululemon
lululemon.com
$16.00
It's not exactly fun to have sweat dripping down your face during workouts. This two-piece wristband set helps the wearer wipe down without slowing the pace. A nice bonus: They also keep arm sweat from sliding down to your wrists—a total buzzkill during resistance training.
12
Beloved Coconut Water and Mimosa Flower Radical Refresher Showerless Cleansing Mist
Love, Beauty and Planet
walmart.com
$9.15
OK, this is seriously helpful. This spray does the job when your gym buddy needs to split, sans shower, right after a workout. It's easy to use—spray all over, let it dry for 30 seconds, and move on. Made from refreshing coconut water and fresh-smelling Moroccan mimosa flower, it's what every workout fan needs in a pinch.
13
CORE Multi-Density Solid Foam Roller
TriggerPoint
amazon.com
$19.99
Tight muscles can screw up future workouts and even lead to injury. This tough EVA foam roller can help your bud loosen them up before and after sessions. Its grid pattern helps it get into achy areas and there's even an instructional video that will give your pal helpful foam-rolling tips.
14
Women's UA Light Training Gloves
Under Armour
underarmour.com
$23.00
Arm day can be murder on your hands without the right gloves. These have a tough leather palm for a perfect grip and perforations that let in air and help keep hands dry. There's even a terry cloth thumb panel for wiping away sweat.
15
Flawless Cleanse Silicone Face Scrubber
Finishing Touch
amazon.com
$19.90
Nothing beats a good wash-up after a tough workout. This soft silicone face scrubber vibrates, which helps clean off all that gunk and sweat that builds up while you're exercising. There are four modes to choose from—gentle, pulsating, massage, and deep cleanse—and this little gadget can hold a charge for days.
This content is created and maintained by a third party, and imported onto this page to help users provide their email addresses. You may be able to find more information about this and similar content at piano.io
https://www.womenshealthmag.com/fitness/g38188803/15-stocking-stuffers-under-dollar35-your-workout-buddy-will-love/