12 Best Wireless Workout Headphones for Sweat and Running
Courtesy Workouts really don't need any help in being worse than they already are and…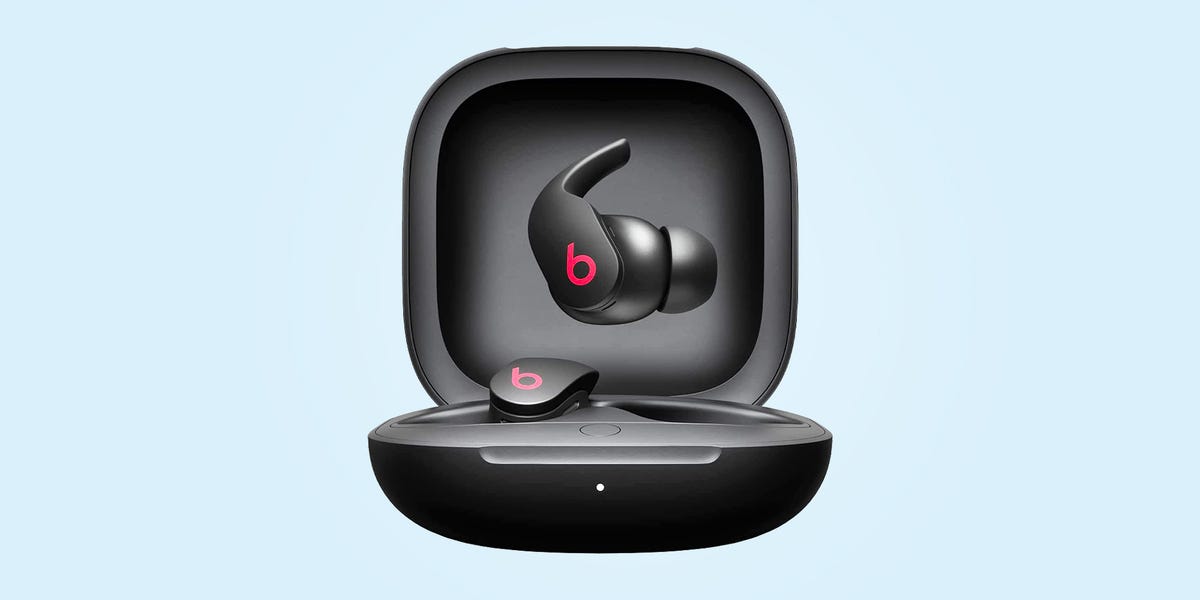 Workouts really don't need any help in being worse than they already are and there is quite possible nothing worse for a workout than headphones that slip in and out, die, or otherwise don't give you the serious distraction you need. Not all headphones were built for the task at hand.
Here, we rounded up some of the best true wireless headphones for hitting the gym. These are great because you never have to worry about wires getting in your way but they also come with their own set of details to consider. You'll need to pay extra attention to the fit, for example. A small wire might give you some wiggle room to wear a bud that doesn't quite fit right, but without the wire, you really need the bud to fit right or it will fall out when it moves. You'll also want to look for something that's water- or sweat-proof, so your headphones don't stop working as soon as your workout gets tough. Something with a long-lasting battery life doesn't hurt, either.
There's not one wireless headphone that's going to be perfect for every person or even every person's workout. Some people prefer on-ear, noise-cancelling headphones for heavy lifting that requires total concentration, but they'll opt for a bud that lets in some background noise when they are biking or running and need to be able to still hear the environment around them. Whatever you're looking for, there's a headphone for you. Here are some of the best.
Advertisement – Continue Reading Below
Beats Fit Pro are a beacon of fitness technology innovation. The noise-cancelling buds are designed to stay put and and sound clear as you move. They do this with the help of dynamic head-tracking technology and flexible wingtips that bend to sit neatly inside of your ear.
Fitness people love Jabra's but the Elite 7 Active headphones are the latest and greatest from the brand. They're our pick for running and jumping or any other kind of high-impact movement because of the built-in ShakeGrip technology. ShakeGrip feels soft to the touch but gets the bud to fit and stay right where you put it throughout your workout.
Sometimes your best bet is what you already have—or what you have been putting off getting. AirPods are ergonomically designed and are meant to sit securely in your ear without pinching or slipping. They are water-resistant, too.
T4506 True Wireless Headphones
These Phillips headphones are great for long training session—or for people who are listening all day at work and need their headphones to still be working when they get to the gym afterward. They have 24 hours of playtime, six on the bud's own and 18 hours of charge they can grab from the charging case. Fifteen minutes in the case will give an extra hour of playtime, perfect for tossing in on your commute to the gym.
Beats Studio Buds are a little smaller and low-key than our other picks from the brand but they perform just as well. There are two modes of listening: active noise cancelling and transparency mode. You can turn on the first for a noisy gym workout and the transparency mode for your at-home sessions when you still need to hear if one of your kids starts yelling.
Beoplay E8 True Wireless Earphones
Bang & Olufsen's wireless earphones are one of our favorites for people who need high-quality headphones for multiple activities. They're sleek enough to feel cool while at work or tracking but they are comfortable enough to function well through a workout. They come built-in with microphones and touch control, should a work call interrupt your run.
Bose's Sport Open Earbuds are a bit newer on the scene in terms of fitness-shaped headphones but they're worth a try if you're looking for something that has a little more meat than just the bud itself. They rest on your ears instead of going right inside them. These are a great option for people who train outdoors and need to hear their surroundings at all times, and they are also great for people who want earbuds but can't quite get them to work with their ear shape comfortably.
Studio3 Over-Ear Headphones
Beats Studio3 headphones are the best noise-cancelling, over-ear headphones you can get. Because your ear is completely covered, the headphones' noise-cancelling capabilities really shine through—you really cannot hear anything else besides your music. A lot of heavy lifters prefer this kind of set-up because it helps you get into and stay locked in the zone.
Another tried-and-true set of earbuds: Powerbeats. They have all of the high-quality sound you'd expect to get from a pair of Beats and the simple design is hard to beat. The ear hooks take on some of the stability heavy work, so you aren't relying on just the shape of the bud to stay in your ear. They are also great for workouts that require any sort of upside down movements, which tend to test other headphones' staying abilities.
As far as earbuds that really are designed to stay absolutely secure inside of your ear, there's no better option than buds that are custom fit. The key is in the photopolymer gel tips, which fit and mold to your specific ear canal. These are great for people with canals that are too big or too narrow for standard sizing—and for people whose ear canals are two different sizes.
These sport earbuds are an easy, lightweight and well-priced option for working out. The red curve fits right in the outside of your ear canal, which lets the bud sit on the canal opening rather than in it. These are great for biking and hiking, when you want some music but still be able to hear your surroundings. With the charging case, they offer a 20-hour battery.
Tune 600BTNC Wireless Headphones
For a less expensive over-ear option, JBL's headphones are a good choice. They have great sound and more lightweight than the Beats over-ears are. These are better for more upright movements—lots of bending and twisting might knock them out of place.
Endurance Peak II Headphones
Now for something you can move more freely in, these JBLs are it. The rectangular design and ear hook helps them sit comfortably in your ear and stay secure as you move. Better yet, that hook is adjustable so you can bend it to your preferred sizing when you put it on.
Jaybird's Vista 2 Sport Headphones are for people who workout hard and use their stuff hard, too. These are built to be virtually indestructible. They're waterproof, sweatproof and dustproof, and made with freeze, shock, and impact resistance.
This content is created and maintained by a third party, and imported onto this page to help users provide their email addresses. You may be able to find more information about this and similar content at piano.io
Advertisement – Continue Reading Below
https://www.esquire.com/lifestyle/health/g39751950/best-wireless-workout-headphones/